System uptime in Microsoft Windows(tm)
Description
Displays how long Windows has run.
Screen dump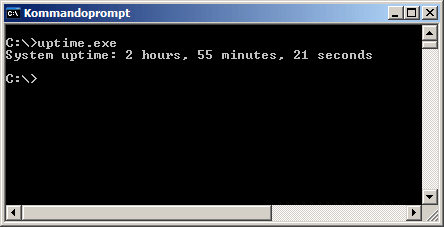 Requirements
Should work on: Windows Vista, Windows XP, Windows 2000 Professional, Windows NT Workstation, Windows Me, Windows 98, Windows 95, Windows Server "Longhorn", Windows Server 2003, Windows 2000 Server, and Windows NT Server.
Requires kernel32.dll to run.
Note: This file should be present on almost all Windows systems
Known bugs
Uptime shown by this program will overflow and wrap around to zero if the system is run continuously for 49.7 days.
Price
This program is free to use. There is absolutely no warranty for this free software.
Download
Binary

MD5 checksum: c065837c1cb344eadd4f01e6121a4c88

Source code
Last changed
Sat Jan 14 01:36:57 CET 2006